ATTENTION! I HAVE RECENTLY FOUND OUT THAT THIS CONTEST IS FIXED! TUFF ACTUALLY WON YESTERDAY! READ MY POST HERE!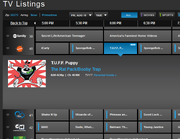 EDIT: Tomorrow's schedule says TUFF is airing tommorow! It even says The Rat Pack/Booby Trap! This doesn't mean you should stop voting, though! Keep voting until you can't!
You remember the failed vote yesterday... well, guess what? We might have another chance! Go here to vote for TUFF! This time, so we don't lose, spread this around and VOTE A LOT MORE. ( for Firefox 4, vote, select HTTP address, press F5 (refresh for IE users), loop until satisfied) We must not let Planet Sheen win again, nor Fanboy and ChumChum!
Also, use the TUFF Chat sometime! It hasn't been used, and I'd like to see somebody use it!
Community content is available under
CC-BY-SA
unless otherwise noted.