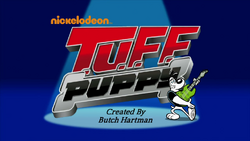 The Theme Song is the song that is sung at the beginning of every T.U.F.F. Puppy episode. It was written by Adam Schlesinger and Butch Hartman.
Lyrics
Dudley Puppy was a plain old mutt
(plain old mutt)
He'd scratch, he'd dig and then he'd chew his butt
(chew his butt)

But when bad guys got too rough
He went to work for T.U.F.F.
And now he's doing secret agent stuff

Refrain:

He's a T.U.F.F. Puppy
T.U.F.F. Puppy
He's a T.U.F.F. Puppy

A dog who sticks his nose right where he knows the crooks will be.

Refrain:

He's a T.U.F.F. Puppy
T.U.F.F. Puppy
He's a T.U.F.F. Puppy

(electric guitar plays)
Trivia
The end credits have an instrumental version of the theme, without the voices and lyrics.
The theme song is a parody of another song called Secret Agent Man by Johnny Rivers.
In later episodes of Season 2, Verminious Snaptrap is in his rounder redesign for the opening.

This is also when Snaptrap plays the guitar for the first time.
Additionally, Kitty and Keswick's screams at their guitar scenes are now muted.
Gallery
Video

See also
Community content is available under
CC-BY-SA
unless otherwise noted.