Welcome to the T.U.F.F. Puppy Wiki
T.U.F.F. Puppy' Television Series.

We currently have 1,662
articles available and 13,177 pictures/images to be viewed. In total this site has 55,711 pages.

For a complete Table of Contents to this site, click here.'''


Please note: This wiki is for FACTUAL info only. However, for all fandom related or rumor based articles, please check out our sister wiki, Fandom Wiki.

---
Television Series
T.U.F.F. Puppy Characters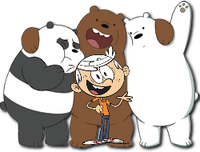 Welcome to the T.U.F.F. Puppy Wiki. A Television series about a "dim-witted dog" named Dudley Puppy is recruited by T.U.F.F. (Turbo Undercover Fighting Force) to protect his hometown of Petropolis with the aid of his partner, Kitty Katswell, against D.O.O.M. (Diabolical Order Of Mayhem).