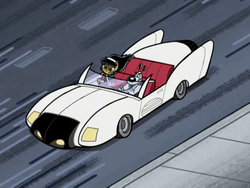 The T.U.F.F. Mobile is a vehicle that is used throughout the series by Agents Puppy and Katswell. It is first shown in Purr-fect Partners, where Dudley is driving with Kitty; she gives into Dudley's insistent demands and allows him to press a button, which ejects him and sends him crashing down onto the vehicle, destroying it. It has multiple transformations, such as the "T.U.F.F. Shuttle"; first seen in Mall Rat, which is used to chase after a flying mall created by Snaptrap which was heading to the sun. Another one is the T.U.F.F. Jet, first seen in Doom-mates; where it takes off without Dudley, who is chasing after the Chameleon. Also, when making u-turns the T.U.F.F. Mobile can raise its chassis and rotate its body, so it can drive in the opposite direction almost immediately. This implies it must be a four-wheel drive vehicle: the engine powers all four wheels. The T.U.F.F. Mobile can transform into a van, or limousine just by the touch of a button. All forms of the T.U.F.F. Mobile resemble Dudley in some way or another (e.g. the front of the vehicle resembles Dudley's snout). The T.U.F.F. Mobile has many buttons which Dudley usually gets mixed up. It looks like the Speed Racer Car abit by shape.
Appearances
Gallery
Community content is available under
CC-BY-SA
unless otherwise noted.