"Sorry, but it never happened."
This article covers a subject that has been deemed non-canon by either the author, Nickelodeon, or the T.U.F.F. Puppy licensees, and therefore may not have actually happened in the real T.U.F.F. Puppy story. Thus, it should not be taken or accepted into it.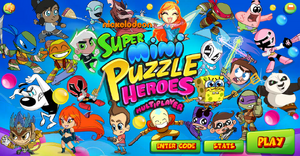 Play the game here!
Super Mini Puzzle Heroes is an online Flash puzzle game on Nickelodeon's official website. The game's characters are from famous Nicktoons.
Official Description
Do you have what it takes to be a Super Mini Puzzle Hero?
Gameplay Style, Main Function, and Goal
The game itself has a style similar to Tetris but with many differences. It uses two vertical orbs (that are rotated by the spacebar and moved by the arrow keys) instead of indefinite clusters of squares and the player has to use bombs and connect them to trails of orbs of the same color to get rid of them. They also must make their piles of orbs shorter instead of having to create a solid line. When the player gets rid of an orb (or a series of orbs) their opponent is attacked with another wave of orbs. The object of the game is for the player to get rid of as many orbs as possible and, in turn, make sure their opponent's pile of orbs reach the top and overload.
Game Modes
Story
Easy - Hard For Newbies
Medium
Hard
Multiplayer
Quick Match: "A single player match against another player online. It's all or nothing!"
Multiplayer Tournament: "Win three matches in a row and go the distance for first place!"
K.O. Mode: "Fast paced, head to head action. The first player to crash 100 orbs wins!"
Characters
Trivia
This is the second game that does not have Kitty in it.
Community content is available under
CC-BY-SA
unless otherwise noted.