"Sorry, but it never happened."
This article covers a subject that has been deemed non-canon by either the author, Nickelodeon, or the T.U.F.F. Puppy licensees, and therefore may not have actually happened in the real T.U.F.F. Puppy story. Thus, it should not be taken or accepted into it.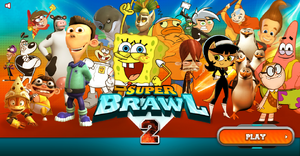 Play the game here!
Super Brawl 2 is an online fighting Flash game on Nickelodeon's official website and is also the sequel to Super Brawl. The game's characters are from famous Nicktoon Shows.
Official Description
Ready to Brawl? Choose from 22 of your favorite characters and battle for supremacy!
Game Modes
Arcade
Customize your brawl. You pick the fighters and the stages.
Tournament
Advance your way through the tournament, one challenger at a time.
Tag Team
Two fighters are better than one. Pick a partner and brawl together in this brand new feature.
Survival
The ultimate challenge. See how many players you can defeat with just one bar of health.
Characters
Stages
The Flying Dutchman's Ship (Spongebob Squarepants)
The Chum Bucket (Spongebob Squarepants)
Zeenu (Planet Sheen)
Forgotten Temple (Monkey Quest)
Sandy's Treedome (Spongebob Squarepants)
Baseball Field (Jimmy Neutron)
Central Park Zoo (Penguins Of Madagascar)
Fanlair (Fanboy & Chum Chum)
Farm Road (Back At The Barnyard)
Pier 31 (The Mighty B!)
Wasteland (Avatar: The Legend Of Aang)
School (Fanboy & Chum Chum)
Frosty Mart (Fanboy & Chum Chum)
Amity Park (Danny Phantom)
Fairy World (The Fairly OddParents)
Penguin Lair (Penguins Of Madagascar)
Coney Island Hideout (Penguins Of Madagascar)
Goo Lagoon (Spongebob Squarepants)
The Krusty Krab (Spongebob Squarepants)
Jungle (Penguins Of Madagascar)
Gallery
Community content is available under
CC-BY-SA
unless otherwise noted.