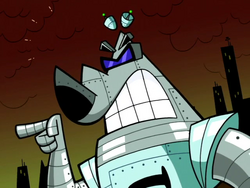 The Snapbots were the hovering robotic enforcers of security and terror in the Snaptrap-controlled alternate universe that was featured in Watch Dog. The Snapbots safeguarded Snaptrap's totalitarian rule, and enforced his weirdly specific laws (i.e. "no pants-less dogs can talk in slow motion while holding shiny objects.")
Aside from resembling Snaptrap, the Snapbots have a large "S" emblazoned on their bodies, are recognized by the beeping noises they made, and rely on hovering to move around. They are armed with laser blasters and mechanical claws. They come in two colors: light teal and gold.
Trivia
Since the episode Watch Dog ended with the defeat of Snaptrap and the undoing of his alternate timeline, it is unknown whether any Snapbots will make another appearance in the show.
They are shown to be rather dimwitted as Dudley was able to trick, destroy, and disguise as one of them with no problem and they were all destroyed at the end.
Gallery
Community content is available under
CC-BY-SA
unless otherwise noted.