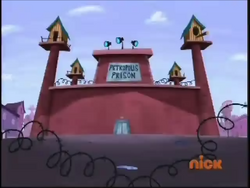 The Petropolis Prison is a prison that holds all of the captured villains and criminals of Petropolis.
Known Prisoners
Trivia
In every episode it appears in so far, the bunny and the turtle prison guards have been seen in cameo roles.
Its cells had wicker bars in Booby Trap, but this was most likely to be fixed since Dudley chewed through all of them, allowing for a major jailbreak.
In the episode Doom-mates, every cell seemed to have a modern security fingerprint system.
In the episode Diary of a Mad Cat, it was revealed that Kitty has a sister who is a criminal and possibly spends her sentence in the Petropolis prison.
It appears that the prison only has main characters for prisoners and not regular citizens.
Apparently the prison celebrates Christmas as it was decorated in A Doomed Christmas.
Goofs
In the episode Doom-mates, the Chief says, "Every cell has a pipe organ, but not every cell has a light bulb!" but every other episode proves this otherwise.
It took on very slightly different appearances in Dog Dish and Lucky Duck.
Gallery
Community content is available under
CC-BY-SA
unless otherwise noted.