Trivia
The title of the episode is a play on the naming conventions of military operations (e.g. Operation: Overlord).
Dudley also says the title of the episode at one point.
This is the first episode where a birthday is being celebrated.
The title card theme is different for this episode than most others. It shares this trait with Mom-A-Geddon.
Injuries caused by Dudley: Surprisingly, only 2 (himself and Kitty).
Injuries caused by Kitty: 34 (the agents, the clown, the kids, herself, and Dudley).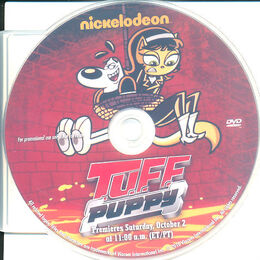 An image from the scene where Kitty and Dudley are about to end up in some lava is used on the T.U.F.F. PUPPY Complete Press Kit disc.
This is the first time Kitty gets knocked out cold.
We get a brief glimpse into Kitty's past, and see her as a little girl and a preteen. We also see her mother, who looks similar to her.
Kitty's cat-like instincts were the cause of her problems for every birthday she's had.
The Mouse Magician is voiced by Jerry Trainor.
It is unknown if The Mouse Magician survived from getting eaten or not.
Chronologically and in production order, this is the first time Snaptrap's cheese allergy is mentioned.
The famous ACME Anvil from Looney Tunes is portrayed in this episode when all the weapons have been fired by Snaptrap.
The settings on Snaptrap's cheese magnet are "Cheese", "Gum", "Fish" (which he crosses off and writes "Cow" over), and "Pimento Loaf".
This episode marks the first time that Ollie is introduced into the series.
Mrs. Katswell looks similar to her daughter does now, except older, bigger, and some altered facial features.
This is the first time Larry gets thrown in the shark tank.

Additionally, after getting thrown in the shark tank, Larry disappears for the remainder of the episode.

This episode (and Mall Rat) are featured on the SpongeBob SquarePants DVD called "Heroes of Bikini Bottom."
Goofs
When Dudley accidentally sets the magnet to cow, it is to the right of the cheese setting. However, when cows start falling and when Snaptrap makes the setting, it is to the left.
When Snaptrap says "Oh, there's the car!", his mouth doesn't move.
When Dudley opens Kitty's musical birthday card and the fireworks spell out "HAPPY BIRTHDAY KITTY", he's suddenly wearing earmuffs in the next shot, even though he is holding the card at the moment.
Running Gags
Snaptrap trying to remember where he parked.
People getting hurt on Kitty's birthdays.
Community content is available under
CC-BY-SA
unless otherwise noted.