"Sorry, but it never happened."
This article covers a subject that has been deemed non-canon by either the author, Nickelodeon, or the T.U.F.F. Puppy licensees, and therefore may not have actually happened in the real T.U.F.F. Puppy story. Thus, it should not be taken or accepted into it.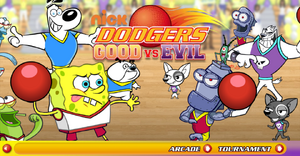 Play the game here!
Nick Dodgers is an online sports Flash game on Nickelodeon's official website. The game is a version of dodgeball, with teams based on factions from different Nicktoons.
Official Description
Get ready Because this game is a ball ... Dodgeball!
Game Modes
Arcade
Customize your competition. You pick the teams and the fields.
Tournament
Advance your way through the tournament, one team at a time.
Teams
Team SpongeBob (lead by SpongeBob)
Team Plankton (lead by Plankton)
Fields
Beach Zone
D.O.O.M. HQ
Volcano Zone
TBA
TBA
Trivia
Community content is available under
CC-BY-SA
unless otherwise noted.