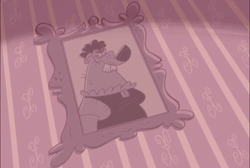 Mrs. Snaptrap (nee Mansbestfriendandhamandcheese) is the mother of Verminious Snaptrap who has yet to be seen, in person, in the series. She has a very raspy voice, and is voiced by Grey DeLisle.
About Her
She calls Snaptrap a "reject" for some reason. She is responsible for buying all of Snaptrap's gadgets for D.O.O.M.'s plots. Her maiden name is Mansbestfriendandhamandcheese, but her first name remains unknown.
She has the light off while in the bathroom for some odd reason, her being in there creeps out Dudley Puppy, Larry, Francisco, and Ollie whenever they want to go to the bathroom.
She also rents out her sowing room when Larry, Francisco, and Ollie had made up G.L.O.O.M. after they left D.O.O.M. She plays bridge with her friends.
Hints on her appearance
The first hint in Forget Me Mutt is that she wears red lipstick, as seen on Snaptrap when he is traumatized into looking like her.
The second hint in Kid Stuff is that she has orange curly hair, which is shown on the toy dinosaur Snaptrap used to represent her during his puppet show.
In Doom and Gloom, a portrait of her is seen in her home, but it is unknown whether this is considered an official design.
In Mom's Away, when she stood in front of Dudley and Snaptrap off screen, they looked up at her as her shadow completely covered them. This may imply that she is rather large.
Mentioned In
Gallery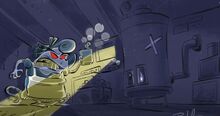 Community content is available under
CC-BY-SA
unless otherwise noted.