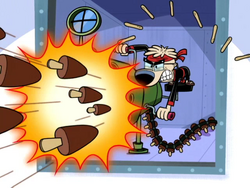 The Fudgey Bar Cannon is a belt-fed, rapid-fire gatling-type gun that shoots fudgy bars from six rotating barrels. It is operated by turning a handcrank, features a reflex sight, and has a built-in chair and handgrip for comfort. It can be mounted onto a vehicle, as Keswick did during The Wrong Stuff.
It has only appeared in The Wrong Stuff, where Keswick used it to fend off children and help Dudley defeat Jack Rabbit.
Trivia
It is a possible goof to the fact that the ice-cream-sticks come out of the cannon like bullet cases, but in the same time we can observe them in the very fudge bars coming out of the barrels like bullets.
Gallery
Community content is available under
CC-BY-SA
unless otherwise noted.