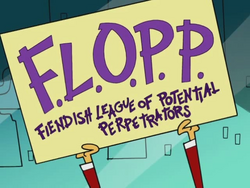 The Fiendish League Of Potential Perpetrators, also known as F.L.O.P.P., is a crime organization, founded by Meerkat. The organization has appeared in Top Dog, Bluff Puppy, Tattle Tale, The Spelling Bee, and Organized Crime, which they got arrested in. They are known to do really minor crimes (which they think of as intense) such as dine and dash, stealing wi-fi, and stealing change from a fountain. A running gag about them is that they steal stuff from D.O.O.M.
Members
Gallery
Trivia
The organization's acronym is a pun of the word "flop."
Their secret hideout is in a shack at a golf course, which has a groundskeeper named Bob.
They are apparently very loyal to each other as Meerkat ordered the team back inside to save Escape Goat from being stuck to some gum on the booth seat also before that he ordered his team to save Wanna-Bee when he fell into the creamer.
They stole a dark matter cannon (Top Dog), a black hole generator (Bluff Puppy), an earthquake generator (Tattle Tale), and later a brain scrambling telephone (Organized Crime) from D.O.O.M.
This is the third criminal organization to be introduced since D.O.O.M. and the short-lived G.L.O.O.M.
They apparently have some morals as Meerkat believed that pushing all the buttons in the elevator was too evil, quite similar to Snaptrap believing that nobody's evil enough to kill someone before they celebrated their birthday on the same day.
Meerkat, Wanna-Bee, and Escape Goat are the only members who appear in all five episodes.
Community content is available under
CC-BY-SA
unless otherwise noted.