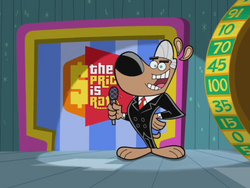 Bob Barky
is a game show host who has appeared in
The Rat Pack
,
Diary of a Mad Cat
and
Barking Tall
.
He first appears hosting "The Price is Rat", where he is held at gunpoint by Snaptrap's clones. He makes his second appearance in Diary of a Mad Cat, where he hosts "Do You Know Your Partner?" In Barking Tall, Bob Barky is the host of the show, "Who Has the Bald Spot?" He is voiced by Daran Norris.
Appearance
He is a brown dog, has gray slicked-back hair, and wears a black suit and a red necktie.
Trivia
He is a parody of Bob Barker, famous for hosting The Price is Right. Bob Barker, even in retirement, is an animal rights supporter, on The Price is Right he would end the show saying "control animal populations have your pet spayed or neutered", he also has a Sea Shepherd Conservation Society boat named after him, as he is the one who made the donation allowing the S.S.C.S. to buy the former whaling "killer" ship (ironically, of all things) that now carries his name.
The Price is Rat is a spoof of The Price is Right.
Dudley admits that he is one of his "three favorite basic cable daytime game show hosts".
Gallery
Community content is available under
CC-BY-SA
unless otherwise noted.