"Sorry, but it never happened."
This article covers a subject that has been deemed non-canon by either the author, Nickelodeon, or the T.U.F.F. Puppy licensees, and therefore may not have actually happened in the real T.U.F.F. Puppy story. Thus, it should not be taken or accepted into it.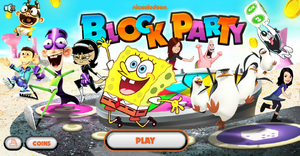 Play the game here!
Block Party is an online Flash board game on Nickelodeon's official website. The game's characters are from famous Nicktoons, and also characters from live action shows, Victorious, iCarly, and Sam and Cat.
Official Description
Have you joined the Block Party? Explore the worlds of SpongeBob, Skipper, Sheen, Fanboy, Dudley Puppy, iCarly, and Victorious and party on!
Turns
Short (10 turns)
Medium (15 turns)
Long (20 turns)
Characters
SpongeBob
Mikey
Sam
Cat
Fanboy
Skipper
Sheen
Carly
Tori
Chum Chum
?
?
?
?
?
?
?
?
Boards
Teenage Mutant Ninja Turtles
Sam and Cat
Fanboy
iCarly
Victorious
SpongeBob
Penguins of Madagascar
Planet Sheen
Trivia
This game is similar to many common turn by turn board games, especially Monopoly.
The gameplay of this game strikely resembles the gameplay of the ever popular Mario Party video games such as in the minigame aspect. But unlike Mario Party, this game is a single player game and only three players can be on the board. Instead of Stars there are gold coins.
After any victory, Dudley dances to a ciotka.
After any victory, Kitty dances to a specific 70's disco move.
Kitty's outfit is shown to be more black than her usual color.
Keswick, The Chief, Verminious Snaptrap, Agent Nutz, The Chameleon, and Fransisco all appear in this game.
Gallery
Community content is available under
CC-BY-SA
unless otherwise noted.