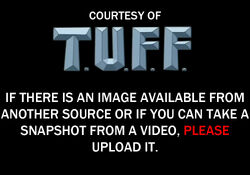 Bigfoot is a legendary cryptid. He first appeared in Bagel and the Beast where a flashback revealed that he visited Dudley Puppy when he was sad and gave him a bagel. In the present, Dudley reunites with Bigfoot at the time when Verminious Snaptrap was posing as Bigfoot (he also can't remove his costume yet since he was allergic to the material that the costume was made of) and robbing people's houses including the house of Wolf Spitzer.
Dudley and Bigfoot had to work together to stop Verminious Snaptrap, Larry, and Ollie. When Verminious Snaptrap rejected Bigfoot's bagel, Bigfoot ended up beating up Verminous Snaptrap.
After Verminious Snaptrap was arrested by Dudley, Bigfoot offered Kitty Katswell one of his bagels as Dudley advised her to take it. When she didn't, Bigfoot chased after her and Keswick.
Appearance
Community content is available under
CC-BY-SA
unless otherwise noted.