"Sorry, but it never happened."
This article covers a subject that has been deemed non-canon by either the author, Nickelodeon, or the T.U.F.F. Puppy licensees, and therefore may not have actually happened in the real T.U.F.F. Puppy story. Thus, it should not be taken or accepted into it.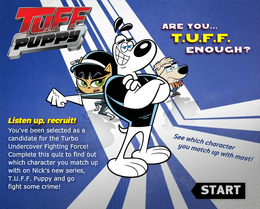 Play the game here!
Are you T.U.F.F. Enough? is the online T.U.F.F. Puppy quiz on Nickelodeon's official website. The goal of the quiz is to answer all the questions and see which T.U.F.F. Puppy character is most similar to you. The outcome is based on the answers given by the player.
Official Description
You've been selected for the Turbo Underground Fighting Force! Now complete this quiz, and go fight some crime!
Questions
1. What is your passion in life?
A. Doing the right thing
B. Hard work
C. Foooood!
D. Technology
2. What is your favorite superhero accessory?
A. A jumpsuit
B. An iron fist
C. A cape
D. X-ray glasses
3. What is your dream job?
A. Karate master
B. Anything where I'm the boss
C. Ice cream taster
D. Genius inventor
4. What is your ideal birthday present?
A. A criminal behind bars
B. Present? No thanks! Back to work!
C. Cake, duhhh
D. A talking car
5. If you see a robber snatch a purse...
A. Ninja trip and karate chop him!
B. Call the cops!
C. Leap through the air and pounce!
D. Shoot lasers through a satellite!
6. What animals do you relate to most?
A. Cats
B. I relate to most animals
C. Dogs
D. Robots
7. When you find bones you...
A. Wonder where/what they came from
B. Play video games
C. Drool!
D. Build a skeleton
8. What do you do on the weekends?
A. Go to the movies with a few close friends
B. Count my enemies
C. Hang with tons of friends
D. Play video games
9. What is your strongest crime fighting skill?
A. Speed and agility
B. Fearlessness
C. Brute strength
D. Mega brains
10. What is your favorite Nick show?
A. iCarly
B. The Troop
C. SpongeBob SquarePants
D. The Penguins of Madagascar
Possible Character Outcomes
Trivia
In the game, Dudley's name is misspelled as Duddley.

Because of this, this has resulted in the comments with people using his mispelled name.

In the game, T.U.F.F. is meant to say "Turbo Underground Fighting Force".
Gallery
Community content is available under
CC-BY-SA
unless otherwise noted.