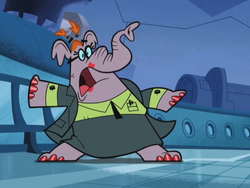 Agent Jumbo is an agent working for the Turbo Undercover Fighting Force (T.U.F.F.) who is an elephant. She is voiced by Grey DeLisle.
Role in the Series
Agent Jumbo is a T.U.F.F. agent that has musophobia (fear of mice). This means that when she sees Agent Rodentski, she always jumps in fear and ends up accidentally crushing the Chief. In Share-A-Lair, Dudley told the Chameleon to change into Agent Rodentski, which resulted in Jumbo crushing him.
Appearances
Trivia
Gallery
Community content is available under
CC-BY-SA
unless otherwise noted.